Full Text
Dear Editor,
Postrenal (obstructive) acute kidney injury (AKI) accounts for 10–17% of all AKI cases.1 It is characterised by obstruction of the flow of urine and may be caused by lithiasis, abdominopelvic cancers, anatomical abnormalities, etc.
We present the case of an 80-year-old woman with a history of appendectomy who subsequently developed peritoneal pseudomyxoma (PPM).2
An 80-year-old woman that 12 years earlier underwent appendectomy due to acute appendicitis secondary to appendiceal mucinous cystadenoma. Now she complains of asthenia, pain and increased abdominal girth in the last few months, and, urinary incontinence and oligo-anuria during the last few days.
On examination, BP 137/82mmHg. Cardiopulmonary auscultation and neurological examination: normal. Abdomen distended, painful to palpation. Distended bladder in hypogastrium.
Lab tests: deterioration of kidney function (creatinine 2.45mg/dl and GFR 18ml/min) and microalbumin 180mg/g. Other lab measurements were normal.
Abdominal computed axial tomography (CT) (Fig. 1): increased uptake in the parietal peritoneum, mesenteric infiltration and a structure adjacent to the caecum related to the appendiceal mucinous tumour, as well as bilateral hydronephrosis (grade 3 on the left and grade 1–2 on the right). Doppler ultrasound of the kidneys without renal artery stenosis. Fine-needle aspiration biopsy: mucinous material with few cells with low-grade atypia compatible with low-grade PMP.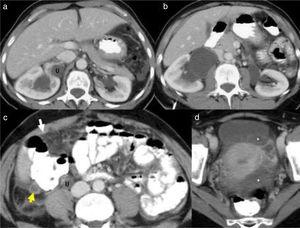 Fig. 1.
CT: (a and b) bilateral hydronephrosis, grade 2 on the right and grade 3 on the left; (c and d) dilation of the distal ureter (U). Linear enlargement with increased uptake in some areas of the parietal peritoneum (arrow) and mesenteric infiltration. Moderate septated ascites in the pelvis (*). Tubular structure adjacent to the caecum related to the appendiceal mucinous tumour (arrow).
(0.45MB).
After urinary catheterisation the urine the volumen of collected was 1900ml.
The patient underwent cytoreductive surgery, but she died during the postoperative period of respiratory distress syndrome. Kidney function after urinary catheterisation and prior to surgery was improving, reaching baseline kidney function. The evolution of the analytical parameters is shown in Table 1.
Table 1.
Evolution of analytical parameters.
|   | Baseline data  | On admission  | At one week  |
| --- | --- | --- | --- |
| Creatinine  | 1.23mg/dl  | 2.45mg/dl  | 1.15mg/dl  |
| Urea  | 21mg/dl  | 82mg/dl  | 27mg/dl  |
| Sodium  | 138mEq/l  | 138mEq/l  | 135mEq/l  |
| Potassium  | 3.7mEq/l  | 5.1mEq/l  | 4mEq/l  |
| Chlorine  | 100mEq/l  | 95mEq/l  | 102mEq/l  |
| Albuminuria  | Undetectable  | 180mg/g  | Undetectable  |
The pathogenesis of PPM has been attributed to the rupture, effusion or metastasis of a primary mucinous neoplasm in a peritoneal organ, especially the appendix and ovaries.2,3
The most common signs and symptoms are pain, intestinal distension/obstruction, overinfection and urinary symptoms.
There are two types: disseminated peritoneal adenomucinosis (DPAM) or low-grade PPM, and peritoneal mucinous carcinomatosis (PMCA), which is comparatively more aggressive.4
The main treatment is cytoreductive surgery, including appendectomy, bilateral oophorectomy and omentectomy plus systemic chemotherapy. Other authors have proposed intraperitoneal chemotherapy or postoperative abdominal radiotherapy.
PPM is a rare process associated with tumours with a low grade of malignancy, the origin of which is unclear, although appendiceal neoplasm has been suggested as its primary origin.
Removal of the appendix is recommended in cases of pseudomyxoma, even where it appears macroscopically healthy.4–6
The prognosis depends on the stage and differentiation of the associated tumour.5,6
Please cite this article as: Borrego García E, Martín-Lagos Maldonado A, García Castillo L, Ruiz Sancho AL. Fracaso renal agudo posrenal secundario a seudomixoma peritoneal tras apendicectomía; una entidad infrecuente. Nefrologia. 2018;38:565–567.
Copyright © 2017. Sociedad Española de Nefrología