Texto completo
Dear Editor,
Schnitzler syndrome is a rare acquired autoinflammatory disease, consisting of urticarial exanthema and monoclonal gammopathy, often associated with systemic symptoms, but only rarely with kidney envolvment.1 The diagnosis relies on clinical, laboratory and radiological findings, as well as exclusion of other diseases. The Strasbourg criteria are used to established a definitive diagnosis.2 Although there is no currently approved treatment for Schnitzler syndrome, the use interleukin-1 (IL-1) signaling pathway antagonists have changed the prognosis of the disease.
We describe a case of a 69-year-old woman with a past medical history of rheumatic mitral valve stenosis, tuberculous lymphadenitis, arterial hypertension, and a normal kidney function. The patient first required medical attention for non-pruritic rash and arthralgias, treated successfully with steroids and an anti-histaminic. Ten days after this first episode, she was admitted to the emergency room for recurrence of those complaints, along with oliguria. Laboratory tests confirmed acute kidney injury (serum creatinine [sCr] 4.4mg/dL) with hypocomplementemia (low C3 and C4) for which no etiology was found. At the time antinuclear antibody, anti- double stranded DNA antibody, anti-neutrophil cytoplasmic antibodies, and cryoglobulins were negative, with normal C1q levels. Symptoms resolved after one week with corticosteroids, and she was discharged with normal kidney function and complement levels. One week later, the patient had a similar episode, complicated with acute pulmonary edema refractory to medical therapy, prompting the need for hemodialysis, and further transference to our unit. Laboratory results were positive for normocytic anemia, mild leukocytosis (without eosinophilia), elevated C-reactive protein (CRP), low C3 (0.5g/L) and C4 (<0.02g/L), and a monoclonal IgG-kappa gammopathy. Immune laboratory tests were repeated, and were all negative. Blood cultures were persistently negative. Urinalysis revealed non-nephrotic proteinuria without hematuria, and kidney ultrasound showed normal kidneys. The kidney biopsy revealed a membranoproliferative glomerulonephritis with monoclonal IgG kappa deposits (Fig. 1), without amyloid deposits. The skin biopsy demonstrated a lymphocytic infiltrate compatible with urticaria, without evidence of vasculitis; bone marrow aspirate and biopsy were nonspecific, ruling out lymphoproliferative disease (<5% plasmocytes). A bone scintigraphy was also performed, showing hyperfixation in the large joints. The echocardiogram revealed moderate to severe mitral insufficiency, with suspicion of valvular vegetation. However, the diagnosis of infectious endocarditis was excluded after no clinical recovery under prolonged empirical and broad-spectrum antibiotics and subsequent valvular repair surgery confirmed its non-infectious nature. After excluding other causes, the diagnosis of Schnitzler syndrome was considered according to the Strasbourg criteria. Oral prednisolone was started (1mg/kg/day), with progressive improvement of renal function, allowing hemodialysis suspension. There was also resolution of the remainder complaints. Anti-interleukin-1 antagonist (anakinra) was started on day 53 of admission, and steroids were tapered. The patient was discharged, with a sCr 2.0mg/dL. Prednisolone was discontinued after 3 months and treatment with anti-interleukin-1 antagonist (100mg/day) alone has been maintained. Almost two years after the diagnosis, the patient has not experienced any relapses and renal function is normal (sCr 0.98mg/dL).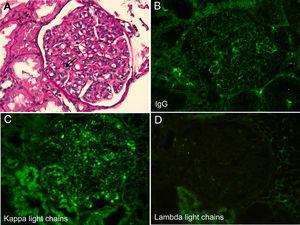 Fig. 1.
Kidney biopsy. (A) Light microscopy (periodic acid–Schiff stain, 400×), with glomerulus showing endocapillary proliferation and double-contour formation along the capillary walls (arrow). (B) Immunofluorescence with deposits of immunoglobulin (IgG). (C) Immunofluorescence with deposits of kappa light chains. (D) Immunofluorescence with no deposits of lambda light chains.
(0,38MB).
This patient was transferred to our unit after 2 episodes of acute kidney injury of unknown cause. The occurrence of recurrent episodes of urticariform exanthema, arthralgias, elevated acute inflammatory parameters, acute kidney injury and hypocomplementemia, raised the possibility of a systemic autoimmune or autoinflammatory disease. However, the first etiologic study was negative. It was the monoclonal gammopathy that clinched the diagnosis, further supported by its favorable response to anakinra. One of the findings that did not support the diagnosis was the lymphocytic infiltrate on the skin biopsy, instead of a neutrophilic one. However, it is compatible with urticaria, and the skin biopsy findings are often heterogenous, with reported cases of Schnitzler syndrome with mild mononuclear infiltrate.3-6
Kidney involvement in Schnitzler syndrome is rare and, to the best of our knowledge, there are only three cases reported (Table 1).
Table 1.
Reported cases of Schnitzler syndrome with renal involvement.
Author 
Maximum sCr (mg/dL) 
Monoclonal protein type 
Histology 
Treatment 
Westhoff et al. (2006) 
1.6 
IgM 
Kidney biopsy not performed 
AntihistaminesCorticosteroidsAzathioprineColchicineTrofosfamideMycophenolate mofetilInterferon α-2aPlasmapheresisRituximab 
Iwafuchi et al. (2012) 
1.0 
IgM-κ 
Membranous nephropathy 
Corticosteroids 
Basile et al. (2017) 
8.5

a

 
IgG-λ 
Type I membranoproliferative glomerulonephritis 
CorticosteroidsCyclosporineAzathioprineAnakinra 
Monoclonal gammopathies and frequently associated with kidney disease, usually dependent on the physicochemical properties of monoclonal Ig. However, even in the absence of a full-blown lymphoproliferative disorder, end organ damage can still occur, and prompt treatment is advised. Monoclonal gammopathy of renal significance (MGRS) was introduced to distinguish it from monoclonal gammopathy of undetermined significance (MGUS), in which case there are no end organ lesion.7,8 In the case of Schnitzler syndrome, the association between monoclonal gammopathy and systemic manifestations is yet to be explained, and the pathogenic role of monoclonal gammopathy as either cause or consequence of the disease is unknown.
In summary, this letter presents the fourth reported case of Schnitzler syndrome with kidney manifestations. Although this is a rare disease, it is probably underdiagnosed, and more cases are recently being reported. Moreover, it is likely that more cases of Schnitzler syndrome are left undiagnosed, given its nonspecific manifestations.
Authors' contribution
All authors have seen this version, discussed the results and contributed to the final manuscript.
Informed consent
Informed consent was obtained from the individual participant whose case was reported.
Funding
This research did not receive any specific grant from funding agencies in the public, commercial, or not-for-profit sectors.
Conflict of interest
The authors declared no potential conflicts of interest with respect to the research, authorship or publication of this article.
Copyright © 2022. Sociedad Española de Nefrología